Event Venues
McCormick Conference Center
Meetings are better with great coffee, warm pastries, filling sandwiches and impeccable service! With the latest in audio/visual, high speed internet and a quiet setting, the McCormick Conference Center seating can be arranged for your specific requirements. This is a great space for weekly business networking meetings, company training, board meetings and sales presentations. Adjacent to the McCormick Indoor Patio, it is an easy transition from a meeting to after-hours get together.
Seats 45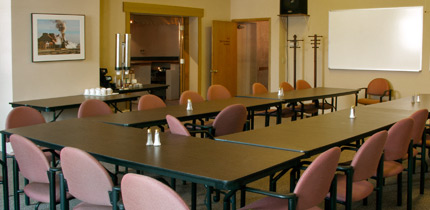 Need more space at once?
We can easily combine the space at the McCormick Conference Center and Indoor patio! Separated by French doors, the space can expand to comfortably fit 80 people. With open seating arranged at your request and presentation capabilities, the possibilities are endless.
Seats 80
All of our venues are located on historic Montana Avenue. We are licensed and insured to meet venue requirements. Whether your event is a midmorning brunch or evening celebration, you won't have far to go for entertainment before or after your event in the heart of the historic district of Billings. Montana Avenue bustles during the day and shines at night, offering music, art, dancing, comedy, theater, artisan breweries and distilleries- all within walking distance.
And parking is free!
McCormick Indoor Patio
It is the perfect location for that bridal or baby shower. Take the stuffiness out of any meeting or gather your friends and family to celebrate a birthday.
Seats 30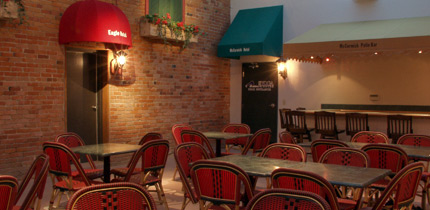 You can book McCormick Café at night for your special event too!
How about McCormick Café at night? We actively support the art community and downtown events. We are open on those nights ready with our signature gourmet coffees and fun appetizers.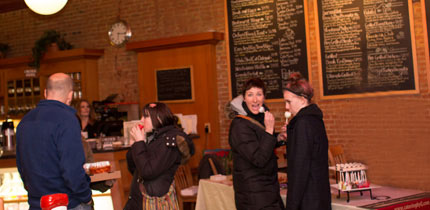 With a seating capacity of 106, historic good looks and local art adorning the walls, McCormick Café can come alive in the evening for your private event.
We provide event venues and fresh, vibrant food that is always perfectly in season and perfect for any occasion. McCormick Catering provides affordable and freshly prepared meals and service for private parties, events, company meetings, celebrations and holiday gatherings.
Below is a sampling of our menu. To see our services, visit our catering section.
Business Meetings  and Celebrations
Family Reunions
High School Reunions
Weddings
Casual Wedding Rehearsal Dinners
Bridal and Baby Showers
Anniversaries
Birthday Bashes